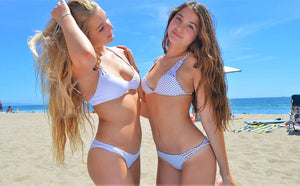 Best Places To Buy Swimsuits Online
When you ask a friend about the best place to buy swimsuits online, I believe there will be many answers, and the answers given will be different. At this time, listen to their suggestions, first see whether the answers they give meet your standards, if not, then conduct an online search. Of course, you will quickly find that there are many swimsuit shops online, and whether it is price or style, more importantly, whether the swimsuit shop is legal and operating normally is a very critical point.
If you ask me the best online store to buy swimsuits, I will tell you about Upopby. Upopby is an online shop specializing in women's swimsuits. They have a wide range of swimsuit styles, whether it's young girls, mothers who have given birth, elderly swimsuits, and pregnant women's swimsuits, and they have them all, regardless of the style or size. Swimsuit, micro bikini, one piece swimsuit, or design, high waist swimsuit, V swimsuit, hollow swimsuit, etc., or color choice, black swimsuit, white swimsuit, red swimsuit, green swimsuit, and even tie-dye swimsuit. You can find the swimsuit that suits you best and your favorite swimsuit in upopbyshop.com.
For example, I have a pear-shaped body and I still have big breasts (this is undoubtedly a proud thing, but it is also a pain, women with small breasts don't need to be too envious), but I have a lot of fat and a convex belly. Lift up, thighs. This is undoubtedly the fear of going to the beach, swimming clubs and other water activities. No matter how beautiful you are, your shortcomings will undoubtedly torment you all the time. At this time, all you need is a perfect swimsuit to "modify" your body.
The design of Upopby's swimsuit is very in line with the needs of life and personal needs. It can "correct" your body and shape your perfect body. The different designs of Upopby's swimsuits are focused on different points. It can cover your shortcomings. For example, I have a pear-shaped body. Then Upopby has created many styles of swimsuits for the pear-shaped body because of the pear-shaped body. The upper body is thin and the lower body is fat, so in order to make you look more decent and create a slim and sexy body, we have developed swimsuits for the pear-shaped body, such as the following swimsuits for the pear-shaped body. You can find that their main design and targeted shortcomings can perfectly solve the difficulties you encounter.
What can you tell from these swimsuits? Yes, upopby's swimsuit design is aimed at the pear-shaped upper part and the middle part. There are measures to respond to it. The upper part is too small, so we removed the double-layered lotus leaf or lotus leaf decoration, and Cold shoulder swimsuits, long swimsuits, long-sleeved swimsuits, etc., and for the lower part, use abdominal control, waist control, and pleated to change your body. As you can tell from bikini models, these swimsuits are also suitable for plus size swimwear. No matter if you have big breasts or tall body, it can work very well. Because polyester, cotton, nylon and other high-end materials are made, their durability and comfort have been greatly improved, and they are not easily deformed and can be worn multiple times. If you want to go to the hot springs, these swimsuits can do its job and mission. And you can show your brilliant side more confidently and beautifully.
Of course, you must have other swimsuit needs, or other body types. I have compiled some dressing tips for you here, and hope that they can help you have a better choice in choosing a swimsuit.
FIVE WAYS TO CHOOSE FASHIONABLE PLUS SIZE SWIMWEAR IN 2022
HOW TO CHOOSE THE RIGHT SWIMSUIT FOR DIFFERENT FIGURES?
THE BEST NINE WAYS TO CHOOSE SWIMSUITS IN 2022!