Upopby Sexy Solid Hollow Halter High Waist Swimsuit
Product Description:
Upopby Solid Hollow Halter Swimsuit is a 100% cotton two-piece swimsuit. It can be used as a swimsuit or as ordinary clothes. It is mainly in solid color, and the top is designed with hollow and rope knot suspenders, which are very sexy and make your breasts look bigger. The bottoms are designed with a high-waisted suit, slim belly control, which belongs to the hip skirt, which makes your hips look more warped. There are ropes on both sides of the bottom to shrink in length, and they can also play a decorative role. 
This is very suitable for you to go to the beach, swimming pool, cruise, vacation or any other place you like. Classic style, less is more, simple is beautiful!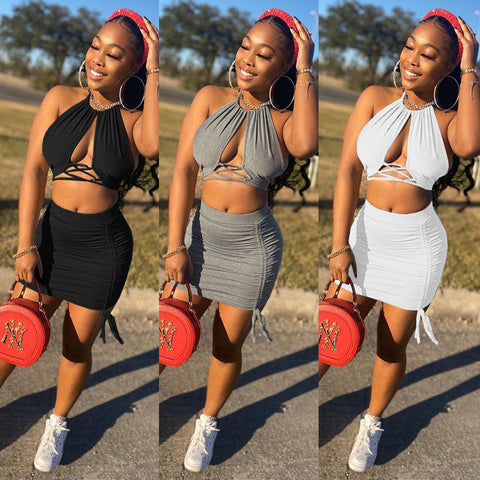 Product Specification:
Brand: Upopby
Material: Cotton
Sport type: a suit
Waist circumference: abdomen, forearm abdomen, abdomen flat
Special size type:
Gender: Women's suit
Style: High straight back cut, Monokini, sexy, open back, tummy, push-up, pleated, retro swimsuit, XL
Support type: This set has a detachable soft cup that can be used for washing and hanging to dry.
Available sizes: S/M/L/XL
Pattern type: black/red/navy blue/rose red/purple/flower print
Occasion: Very suitable for summer swimwear, beachwear, pool parties, vacations.
Product Size Guide:
Package Included:
1* Retro lace-up skirt suit
About Upopby:
Upopby is an exotic-inspired swimwear brand providing you with a wide array of bikinis, one-piece swimsuits, two pieces swimsuits, tankinis cover-ups and apparel, and an extensive collection of accessories. We blend high-quality materials and design techniques to showcase the look of a sexy woman who is beautiful and confident.
Our goal is to provide comfortable, flattering, fashionable, high-quality products to complement your confident lifestyle.
GET MORE DISCOUNT
Sign up with your email address to receive news and updates from us.
Worldwide Shipping
Easy Order Tracking
International Warranty
100% Secure Checkout