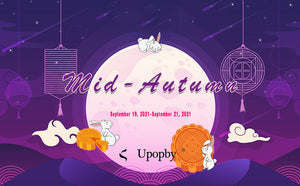 Upopby Mid-Autumn Festival Holiday Notice
Hi, Customers.
Glad that you can read this article.
As the Chinese Mid-Autumn Festival are coming, Upopby team will have a public holiday for 3 days.
Holiday time: September 19, 2021-September 21, 2021
Note: Mid-Autumn Festival also the moon festival( on the 15th day of the 8th lunar month Chinese)
The Origin of The Mid-Autumn Festival:
The Mid-Autumn Festival originated from the worship of the moon in ancient times and has a long history. In the early years of the Tang Dynasty in China, the Mid-Autumn Festival became a fixed festival and has continued to this day.
The Meaning of the Mid-Autumn Festival:
It means the members, go home to reunite, and miss their hometown.
Customs of the Mid-Autumn Festival:
In China, the Mid-Autumn Festival has different customs in every place. However, the general customs are the following: offering sacrifices to the moon, viewing flowers, viewing lanterns, eating moon cakes, and family reunion.
Notice:
During this period, the message in the station may be delayed, and we will deliver the goods as usual, so there is no need to worry about the goods. thank you very much for your patience.