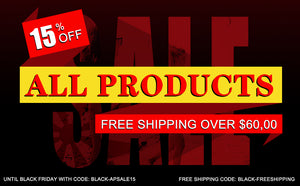 BLACK FRIDAY 2021 | Get 15% Off & Free Shipping Code
Hi Customer:
Black Friday will arrive in 9 days, are you ready?
During the Black Friday period, Upopby prepared some special discounts for you. If you need it, you can get more concessions and save more money and energy.
Now offers you a 15% discount for all products purchased at upopbyshop.com. You only need to enter the 15% OFF coupon code: BLACK-APSALE15 at checkout. You can enjoy 15% discounts in all online stores.
Note: If the amount of your order exceeds $60,00, congratulations, you can enter the free shipping code again after entering the 15% discount code: BLACK-FREESHIPPING. You can enjoy the preferential policy of free shipping in most areas!
The strength of this offer is huge, so our deadline is: 2021-11-26 00:00
Of course, we also have individual discounts for other products. If you want to view more discounts or get more discount codes, please send them in the chat window, Deal or discount. You can also visit the discount articles on the site to get more discount information.
Follow Upopby, you will get more discounts and swimsuit knowledge!