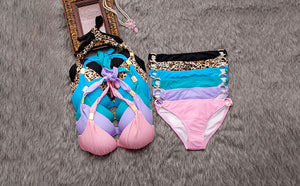 Which One-Piece Swimsuit or Mix & Match Swimsuit is Better?
Type of Swimsuits
Why wear swimsuits? Because swimsuits have lower water absorption than underwear or other clothes, they are lighter and easier to dry. And swimsuits are all close-fitting, and the resistance when swimming is much smaller, which can make you swim faster and easier. Common types of swimsuits are: one-piece swimsuits, swimsuit tops, swimsuit bottoms, and swimsuit sets.
Should Beginners Buy the One-Piece Swimsuits or Mix & Match Swimsuits?
One-piece swimsuits are more suitable for beginners. This is the most classic, fashion and sports swimsuit. It is not only comfortable, but also can cover the belly and other parts, and most of the one-piece swimsuits have good elasticity. The one-piece swimsuit occupies most of your body's skin, so when you are in danger, a bright swimsuit allows others to the attention to you, so the one-piece swimsuit is the safest and most friendly type of swimsuit for beginners. One-piece swimsuits include many types, including sporty one-piece swimsuits, fashion one-piece swimsuits, plus size swimsuits, and sexy one-piece swimsuits.
Which One Is More Suitable For Swimming If The One-piece Swimsuit Is Mix & Match From The Swimsuit?
From the perspective of fitness swimming, more people choose one-piece swimsuits. All professional swimmers will definitely have one-piece swimsuits. Because one-piece swimsuits generally do not have lace, knots and other decorations to prevent the swimsuit from hooking up during swimming, reducing certain risks, preventing exposure, and increasing The safety factor. And the one-piece swimsuit also reduces the resistance when swimming. So the one-piece swimsuit is most suitable.
From a sexy point, there are more choices of swimsuits. Because the swimsuit is divided into a swimsuit top and swimsuit bottom, it has more styles and richer design elements, so the mix & match swimsuit can show your perfect body most directly, making you the most shining on the beach. And mix & match swimsuits can also be matched by yourself or you can buy swimsuit sets, you can freely match the colors and styles you like. So for people who love beauty and good figures, a mix & match swimsuit is most suitable.
What Swimsuit Is Suitable For Various Scenes?
At the beach: Choose brightly colored swimsuits with good durability. Both one-piece swimsuits and mix & match swimsuits are very suitable.

In hot springs: It is better to choose the mix & match swimsuit, which can increase the contact area between the skin and the hot spring.

In the swimming pool: choose a simple and close-fitting swimsuit. Both one-piece swimsuits and mix & match swimsuits are suitable.

In diving: choose a comfortable and dark one-piece swimsuit.