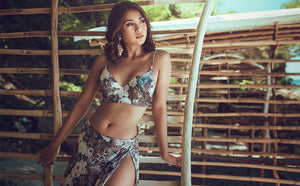 What Kind of Swimsuit for Older Women
Age is always a secret for women. As time goes by, your body and face are the most obvious. They will become loose, wrinkled, and no longer shiny as time goes by. As we grow older, we become more sensitive to our external image, and become more nervous and anxious. Of course this is not only for older women, but also for young girls. For elderly women who love beauty, how to maintain your beauty is a difficult topic. Today, I will solve for you what kind of swimsuit to choose when going to the beach in summer. If you have other methods, you can leave a message in the comment area to discuss together.
Older women represent elimination and gray, dim, and lack of vitality, so can we do the opposite? What will happen if we choose beautifully colored swimsuits to set off in reverse?
At the 2019 Sports Illustrated at Miami Swim week Fashion Show. Is Kathy Jacobs young? She shined like a green swimsuit. She didn't feel anxious or low self-esteem because of the young women around her. In addition to the self-confidence and beauty of Casey Jacobs, the bright colors of the swimsuit also provide no small charm. Research shows that when you try on beautifully colored clothes, your mood will get better!
(Image form: @ageisbeauty)
If you do not have enough confidence and courage to try brightly colored swimsuits, then you can choose swimsuits that highlight your characteristics. For example, if you have a good-looking back, try to choose a backless, or your shoulders are good-looking, then choose a tube top bandeau swimsuit, or a thin shoulder strap, and a swimsuit in a single room. If your belly is protruding, choose a swimsuit that covers a wide area, and many tankinis have designs that cover the entire abdomen or control the abdomen.
In fact, many times, you feel that your own problems are infinitely magnified by you. It may only be a place that is easy to overlook, and you don't have to pay too much attention to it. Try to break your current swimsuit style. There may be Different effects, such as Upopby One Shoulder Side Cut Out One Piece Swimsuit. This swimsuit uses a one-shoulder design, and there is a half hollow design at the waist, which can effectively reduce the abdomen.