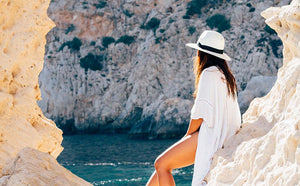 The Bikini Cover Up
In many cases, wearing a bikini alone is a bit monotonous, and sometimes even feels cold, and sometimes your sunscreen does not work or you forget to apply sunscreen to protect your skin, then a bikini cover-up blouse is a very Important role.
A bikini cover-up is an extra cover in addition to the bikini or other swimwear you are wearing. It can play a lot of functions, such as sun protection, resistance to cold, decoration, and shielding. If you are struggling to choose a swimsuit that suits you, or a swimsuit for your special needs, then you can consider a cover-up, which is a very good choice.
There are many styles and styles of bikini cover-up blouses or beach cover-up blouses, and the functions and effects they play represent different styles and designs. And many times you can play another role on top of the effect you want. UPOPBY Lace Beach Cover Up Blouse plays a lot of roles, the most direct is the role of decoration and shelter. It is made of 100% polyester, and the hollow design is to keep you from being stuffy when you wear it again, to achieve the circulation of gas, and it can also play a good shielding role, not only shielding the sun. The tassel design will further shape your curve. The figure that is looming can't be seen is the most seductive body curve. You can mix and match it with it, such as cute clothes, sexy underwear, sexy bikinis and so on. Make you more beautiful, fashionable, sexy and elegant.
The main function of other cover-ups, such as the UPOPBY Beach Swimsuit Cover Up Cardigan, is to shade and decorate. This swimsuit blouse has a long design, which can well cover most of your body. The material is made of tulle chiffon. It is light, easy to dry, breathable and sexy. It is more attractive than a lace beach blouse. Suitable for wearing on vacation, beach, swimming pool. You can wear it as you like, but I recommend you to wear a hotter and sexy bikini, which will have a great effect, you can try it.
The above is most of the functions of the cover-up, of course, it also has other functions, for example, some cover-ups will be equipped with pockets, which is convenient for you to carry some small things. UPOPBY is an online store specializing in women's swimwear. The products include sexy bikinis, sports and leisure one-piece swimsuits, belly-protecting tankini, and monokini. Welcome to pay attention and buy.