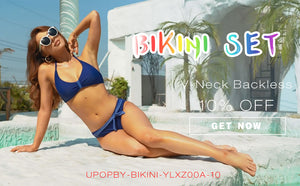 10% Discount For You - Upopby Open Back Sexy BIKINI SET
Hi, Everybody.
Now there is a coupon code for Upopby Open Back Sexy Bikini Set for you. If you want to buy this set, I hope it can help you.
About Upopby Open Back Sexy Bikini Set:
Upopby Open Back Sexy Bikini Set is a very charming and sexy swimsuit. It is divided into bikini tops, bikini bottoms, and decorative belt bows. There are three parts in total. Upopby starting from comfort and beauty, the bikini set is made of Polyamide + Elastane as a whole and is designed based on the shape of the human body, making it very comfortable and convenient to wear. The bikini top design is also very good. It is worn with neck and back knots. The V-neck design and the no underwire and detachable cups ensure excellent support and good protection. Taking into account the overall design factors of the swimsuit bottom, a decorative belt of contrasting color is added to the swimsuit bottom, which corresponds to the top in a very good color. There is also a belted bow. You can choose not to use it, or you can choose to use it, because if You only have a swimsuit, so a decorative belt bow can play a more fashionable role, or it can be worn on your wrist or ankle, which is also a very good dazzling and fashionable choice.
Note that this swimsuit is suitable for large sizes up to the D cup. or bigger. You can tell by reading our product reviews. If you are worried about choosing a swimsuit, then I hope you spend two minutes learning about this Upopby open-back sexy bikini set. I believe it will not disappoint you.
About Code:
Offer: 10% OFF
Code: UPOPBY-BIKINI-YLXZ00A-10
Validity: 2021-10-11 12:00
Usage restriction: Everyone can use the discount code indefinitely.
Usage rules: The discount code only corresponds to this swimsuit